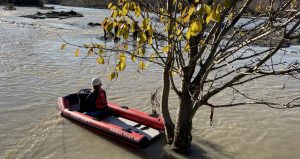 At the request of the Ministry for Primary Industries, who are the lead for animal welfare emergency management during civil defence emergencies, Animal Evac New Zealand's local and national capacity is being mobilised in readiness to assist animals affected by the worsening Canterbury floods.
A multi-skilled team including a veterinary technician, farmers, animal control officer, swiftwater rescue specialists, veterinarian, military paramedic, and animal welfare specialists, many of whom have completed accredited flood safety training are being deployed from around the country as far as Northland to ensure assistance is available to MPI and other authorities to help the animals.
"This is what we train for and are equipped for. Animal Evac New Zealand over the past couple of years has secured grants from the likes of the Lion Foundation and others to procure specialist personal floatation devices (lifejackets) and helmets, along with receiving three donated inflatable rescue sleds. These resources have been used on several flood safety and swiftwater rescue courses held across the country to train our volunteers so they are ready and safe for emergencies like this" says Duty Agency Commander Mark Anderson.
Animal Evac New Zealand has over 300 trained animal disaster responders with a diverse range of expertise available. Formed in 2018, it was established after the gaps identified in the 2017 Edgecumbe Flood where over 1,000 animals were left behind in the evacuated township.
If you are able to help Animal Evac New Zealand protect animals from disaster, please donate at Give A Little.