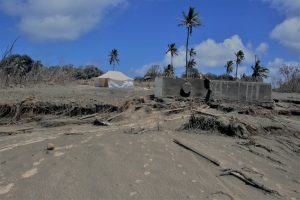 From Hawaii to Tonga, the impacts of volcanic eruption can be devastating to animals. We have prepared this short list of resources to help those affected by volcanic ashfall as well for communities who live with volcanic risk.
Resources
The below are some free useful resources around preparing for and recovering from volcanic ashfall:
USGS Volcanic ash impacts on agriculture website
International Volcanic Health Hazard Network: Before, during and after ashfall booklet.
International Volcanic Health Hazard Network: Public health booklet
Tips for keeping pets safe
Before an eruption
Ensure you have a family emergency plan that includes your animals
Ensure all your pets are microchipped
If you pet has as collar, ensure it has identification tag with a mobile phone number on it (not your residential land line as you may not be able to get home in an emergency)
Ensure you have several photos of your pet, particularly of the face for facial recognition databases.
Save animal records (veterinary, vaccinations, insurance, photos etc) to cloud storage/email
Have a pet evacuation kit

pet carrier/crate for each animal
Ensure each dog has a muzzle available so they can be handled by officials
Vaccination/de-worming records
Food and water
Leash for each dog
brushes
Saline
Familiar toy/blanket
Sanitation supplies (cleaner, wipes, poo bags, kitty litter etc)
If an eruption is possible
Bring your pets indoors and prepare for evacuation

toilet cats inside so you can easily find them in case of evacuation
ensure you have suitable transportation available and ready

Ensure you are subscribed to local warning systems
Monitor the news for updates
Confirm alternative pet friendly accommodation for your family

this could be with other family or pet friendly hotels etc

Consider evacuating early – evacuating with animals can be time consuming
If an eruption is imminent or in progress
Keep your animals out of low lying areas (where toxic volcanic gases can accumulate)
Pet jackets may be useful to minimising contamination from volcanic ash
Always ensure your pets are not loose inside a vehicle when evacuating
Ensure water given is not contaminated by ash
If you animals become contaminated by volcanic ash

contact your veterinarian for advice
brush off excess ash outside (under shelter)
check eyes for contamination, flush with water/saline if needed
place ash and other contaminated waste into sealed plastic bag

If your animal starts to have difficulties breathing, contact your veterinarian immediately.
Evacuate early and if you think you need assistance, ask for this as early as possible