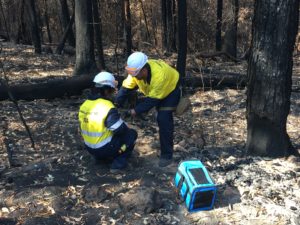 More animals were saved today by Animal Evac New Zealand's specialist disaster response team. 
After four hours of searching fire destroyed habitat on Pointer Mountain at the request of the private land owner, the team thought there was no chance for any animal to survive, but a keen eye managed to spot an echidna. Veterinarian Dr Heather Remant then managed to catch and examine the little battler.
Will you help other animals like Edward? We urgently need donations. 
After examination, it was confirmed the echidna was healthy to be released and not nursing (to ensure no babies were left behind). He was named "Edward" by Rizza and Ted, the land owners who were so lovely (we met them the night before while having dinner at Milton). You can watch additional exclusive video footage of the rescue on Stuff.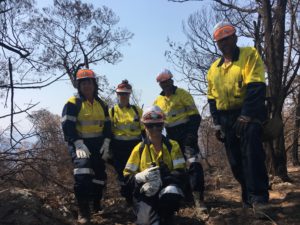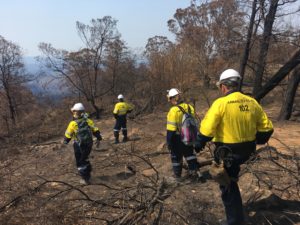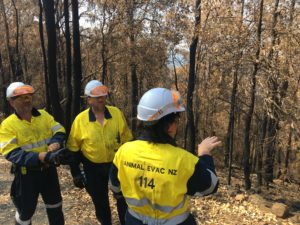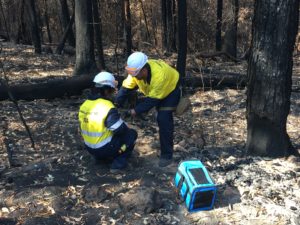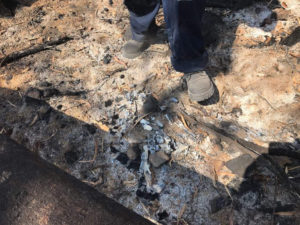 Searching for animal survivors has been like searching for a needle in a haystack, and it was great for the team to save yet another animal that otherwise would have perished. The team also came across the skeletal remains of animals that did not survive the intense fire. Though Edward was in good health given the circumstances, there was zero sources of food or water for him so he was relocated a few kilometers away where he was safe (and provided some extra food and water).
But Animal Evac New Zealand is not just about "response", preventative interventions are just as, if not more important as part of a comprehensive emergency management philosophy. So after our Kangaroo rescue operations on the first day of our deployment, we headed to Bundanoon – a town that we knew would be in the cross hairs of deteriorating fire conditions. We staged ourselves on Penrose Road, thanks for the generosity of our Airbnb hosts (thank you!), and spent the next 24 hours engaging existing expertise such as the vets at Bundanoon Veterinary Hospital and with the volunteers at Dimmocks Retreat Wildlife Rehabilitation and Sanctuary.
We don't just respond, we enhance community resilience for future disasters. Please donate to help us save lives today. 
We spent time getting to know the community who were so amazing and very kind hosts. We also attended the Community Readiness Expo and in conjunction with the Bundanoon Veterinary Hospital we distributed over 120 pet carriers. The pre-evacuation protective measure of pet carrier distribution was trialled in the Nelson 2019 fires by Animal Evac New Zealand given research showing that a lack of pet carriers is a causal factor for evacuation failure. The team also checked to ensure vulnerable members of the community had sufficient support and resources to safely evacuate with their animals.
Our pet carrier distribution has likely saved more animals and people by ensuring owners have sufficient resources to evacuate.
The team had to suspend field rescue operations due to forecasted dangerous fire conditions as the town was put on alert and along with the majority of the town, evacuated on the Friday afternoon. Later that afternoon, the predicted wind change escalated the fire danger from orange to red (emergency warning) and remaining residents were instructed to shelter inside as the massive fire advanced to the town, in particular Penrose Road. The operational safety planning meant our crew were kept safe, and we are confident that our distribution of pet carriers not only saved the lives of many companion animals, but humans too. It may not be as exciting looking as carrying out field rescues, but these activities prevent lives being compromised in the first place.
Animal Evac New Zealand was the first international animal disaster response team to arrive into Australia, with specialist volunteers from diverse backgrounds including emergency managers, veterinarian, animal control officer, military paramedic, and a farmer.
We urgently need donations to continue our response to help the animals affected by the Australian Fires.
Follow our facebook for more updates, photos and videos of our response.
#AustralianFires #Wildlife #Animals #TrainedResponders #SafetyFirst