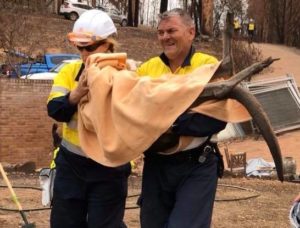 Since our last update, the Animal Evac New Zealand's specialist disaster response team have had some long, busy days. On Monday we welcomed additional members to the team. Antonia, Sarah, Steve and student Vet Holly's energy has been infectious, and their skilled support very much appreciated.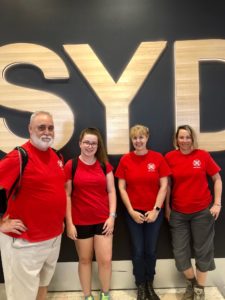 Over the past three days we have been tasked with searching the Wild 2 Free Kangaroo sanctuary and adjacent properties, an area of approximately 130 acres. Before the fires, this area was home to dozens of hand-reared and wild kangaroos, however on New Year's day, the fire tore through the sanctuary burning everything in its path; sheds, shelters and sadly the owner's home.  Owner Rae, her cat and a sanctuary volunteer fled to the water's edge where luckily her neighbour discovered them as he was passing by in his boat.
Kangaroos are naturally nervous and will flee from humans no matter how injured they are. Even the hand-reared Kangaroos are very nervous of strangers, so we are fortunate to have the services of Marcus from Alphadog, who is a leading expert in darting kangaroos.
During our search we found a 'swamp wallaby' we named 'Shadow.' Shadow had serious burn injuries, plus a tiny joey in her pouch. She was very dehydrated, hungry and in a lot of pain. Animal Evac Veterinarian, Dr Heather Remnant and student Vet, Holly Hender, treated her burns and gave her pain relief. She enjoyed a hearty meal of nectarine, apple and banana. Later on she featured on TVNZ news.
Clover was another fortunate recipient of our specialised vet care. Poor little Clover's burn wounds had become so infected, they had attracted maggots. She hopped away after a good dose of pain relief, antibiotics and antiseptic wound care. At dusk, she returned with twenty of her friends! When they hopped up to the feeding area they had to fight off the cockatoos who had taken a liking to their food. It was good to see the Kangaroos as mob as it was easy for our vet to assess them and this gave the charity owner Rae, great peace of mind. However, one dearly loved kangaroo 'Penny' was missing.
Today during our search, Marcus found Penny. She is due to be darted with a sedative so she can receive full veterinary treatment for her burns. While all of this was happening a small mob of sheep wandered into the area. In good kiwi fashion we quickly whipped up a pen and like good heading dogs, we convinced them to enter the enclosure. Our vet assessed them and even though they were slightly singed by the fires, they were deemed in good health and we arranged for their owner to collect them.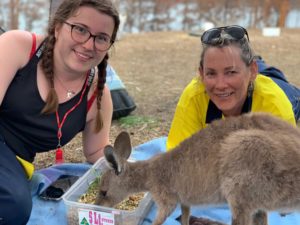 All in all it's been a productive few days.
Can you help other animals like Clover and Penny? 
We urgently need donations to continue our response to help the animals affected by the Australian Fires. You can also make a donation directly to the Wild2Free Kangaroo Sanctuary who need money to rebuild.
Follow our facebook for more updates, photos and videos of our response.
#AustraliaFires #Wildlife #Animals #TrainedResponders #SafetyFirst