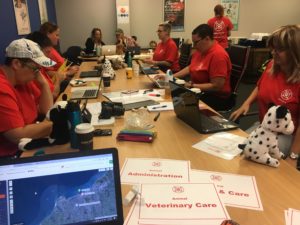 Animal Evac New Zealand made global history this weekend, with the application of D4H Incident Manager being tested to manage the registration of disaster affected animals during a table top exercise as part of its 1st Sheltering Course. As a result, real-time information on how many animals still needed to be rescued and easily displayed on integrated GIS mapping were easily available. This was in contrast to previous emergencies in New Zealand involving animals where a range of ineffective spreadsheets or paper forms were used. Steve Glassey who led the largest animal rescue operation in national history (the Edgecumbe Flood, 2017), said using paper maps highlighting what had been cleared, and a spreadsheet being emailed between the field and the coordination centre in another town was sub-optimal, leading to houses being search multiple times unnecessarily and created a lack of clear information to make better response decisions for all those involved (Glassey, 2017).
The new D4H Incident Management system enabled volunteers to use their smartphone, tablets or laptops (and donated Chromebooks – thanks to Animal Register Ltd) to register incoming "mock" disaster affected animals. The system is an online/offline hybrid, ensuring continuity of use regardless of internet connectivity and data is easily and securely synchronised when internet is available.
Animal Evac NZ volunteers spent literally minutes being given an overview of the D4H IM system before getting on with the job of registering animals.
"If you can use a web browser, you can use D4H Incident Manager – it is that simple" says Steve.
The customised self developed forms and info-boards (animals, logistics, owners, incidents etc) were set up were up and running, in less than two days from receiving our administrator login and during the sheltering course table top exercise, adjustments were made in real-time to the forms to maximise lessons identified for improvement.
The weekend also included the 10th Animal Evac NZ Foundation course, brining up the total number of trained volunteer animal disaster responders to over 160 across the country – all of whom can be easily mobilised using Team Manager, another platform developed by D4H that has integrated SMS and email communication.
Animal Evac New Zealand was founded only 8 months ago and has become the country's only dedicated animal disaster management charity. It has achieved these milestones without any government funding and has no staff, buildings, or vehicles. As a grass-roots organisation, it relies on donations, grants and the support of organisations such as D4H Technologies (Ireland), Vector Wero Whitewater Park, Animal Register Ltd, Boehringer Ingelheim and the passion of its volunteers.
The table top exercise proved the new systems were ready. Animal Evac New Zealand is no longer just an idea, it has tested and world leading information technology infrastructure ready to respond. Further Sheltering Courses are being planned for 2019 to complete Animal Evac NZ's operational readiness project.