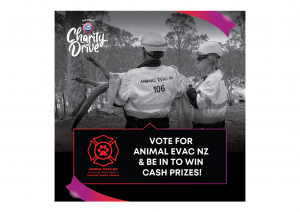 Vote for Animal Evac New Zealand as part of the Gull New Zealand Great Charity Drive and you go into win a spot prize!
Gull New Zealand is giving away up to $60,000 to three amazing charities, and we are one of them! We now need you to lend a paw and help us get a solid share of this money so we can can continue to help animals affected by disaster (including Gulls!).
Just recently we were in Canterbury helping out farmers saving stock stranded in flooded areas. Last year, you may even remember us helping at the front line of the Australian Bushfires again saving wildlife from harm.
We receive no government funding for our training and equipment which we need to be ready and safe in emergencies, so please vote today for Animal Evac New Zealand (and you may also win a spot prize too!).