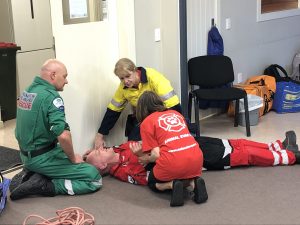 The few months has been busy for Animal Evac New Zealand, with the delivery of four disaster rescue courses including urban search and rescue (USAR) and swiftwater.
Following on from what is known to the be the largest USAR Awareness Course held in New Zealand, there was plenty of interest for more training and for students to go onto to complete the USAR Responder (CAT1R) syllabus. 14 students from Animal Evac New Zealand, Wellington Free Ambulance Rescue, Fire & Emergency New Zealand, New Zealand Response Teams, and Massey Veterinary Emergency Response Team came together over three days (across two weekends) to cover off remaining elements of the USAR Responder course, having already completed the USAR Awareness course. The course included knots, lifts/drags/carries, stretcher loading and patient securing (pole, basket, and SKED), ladder operation, 2 and 4 point lowers, chair knot and vertical lift knot lowers, START mass casualty triage, black out search, building search, basic command tactics, spinal injury management, lifting/cribbing, crush injury management, low damage building entry methods and numerous team exercises both within buildings and in/around the rubble pile. Students that had already completed their CIMS and First Aid (or higher) requirements where qualified as USAR Responders under the ITRA global training system, with students receiving a Training Skill Sheet with a QR code that allows for real-time validation of such training which has become increasingly important after the discontinuation of the national USAR Orange Card system. Thank you to John Klaphake who assisted Steve Glassey (ITRA Instructor) with the course, and special talks given by TEMS Paramedics James and Nick from Wellington Free Ambulance. We already have our next USAR Awareness Course planned for December in Christchurch.
In between the USAR General Rescue course weekends, a multi-agency Introduction to Swiftwater Responder course was held on the Kapiti Coast. This multi-agency course was attended by Animal Evac New Zealand, Kapiti Coast Council Animal Management, Fire & Emergency New Zealand, New Zealand Response Teams, Police SAR, and several other response agencies. The course was delivered by Jen Rizzi (ITRA Instructor) and Rochelle Andrews (Instructor Candidate), supported by Steve Glassey (ITRA Instructor) and students from previous ITRA Introduction to Swiftwater Technician courses. The course also christened the two new inflatable rescue sleds (Maggie I and Maggie II) with their donor seeing them being used and even taking a ride on one. Using the ITRA training system, it exceeded requirements of the unit standard for flood safety and covered incident management, flood and swiftwater hazards, sinking vehicle escape, hydrology, medical considerations, search and rescue immediate actions, defensive and aggressive swimming, throw bag use/receiving, shallow water crossing methods, boat on tether rescues, hand tensioned pendulum, and strainer negotiation/wrap. Again, all students received an ITRA Training Skill Sheet that allows for real-time verification through the student's uniquely issued QR code.
Find swiftwater course photos here on our facebook page.
The commercial value of the last four disaster rescue courses is estimated at over $31,700+GST. However thanks to a grant from the Nikau Foundation, along with donations and in-kind contributions from our supporters we have delivered FREE training to over 87 people at a fraction of this cost.
Pet First Aid courses have now been scheduled for Animal Evac New Zealand volunteers in Christchurch and Wellington before the end of the year also.
Feedback from the courses included:
Excellent course, would recommend it my team.
Fantastic. Loved it. Thank you.
Great course with a lot of good practical exercises and repetition to get solidify learning.
Animal Evac New Zealand is the country's only dedicated animal disaster management charity, with over 270 trained volunteers nationwide. We pride ourselves in providing emergency services and emergency management, response volunteers who are trained to at least the same level as our human rescue counter-parts to ensure we have their confidence to be provided access during disasters to carry out our purpose to ensure no animal is left behind following a disaster. Animal Evac New Zealand receives no government training funding and relies on the generosity of the community to continue its services.