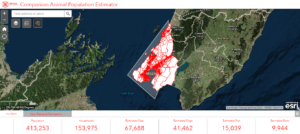 Animal Evac New Zealand with the support of ESRI and Eagle Technology have launched an online GIS companion animal population estimator tool to help with emergency response and planning. Emergency services can use it real time to estimate how many companion animals may be affected by an emergency such as a fire or chemical spill, while emergency planners can use it to forecast what resources may be needed to support evacuations and provide temporary care.
"It is critical that current technologies are integrated into animal emergency management practices. We have never had this type of information readily available for emergency managers to make informed decisions. Animal Evac NZ is about providing tools to help a collaborative response to disasters impacting on animals. This estimator supplements our existing D4H team manager and incident manager platforms as part of our adoption of world leading information management systems for emergency response" says Animal Evac NZ Co-Founder, Steve Glassey.
The estimator uses data from the NZ Companion Animal Council's surveys.