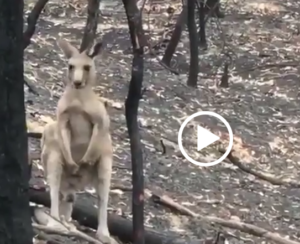 We have a hard job on the ground, and stories like these break our hearts but this is what we are here to do. Help the animals on the ground affected by the Australia Fires. 
Warning: Some viewers may find these videos distressing.
Animal Evac New Zealand received a call for an injured Kangaroo near Mogo, New South Wales. Our caller took a video of the Kangaroo on her property who was very clear when asked if he was okay, he shook his head (to say "No!" we reckon). The caller had attempted to get other animal groups to attend with no success, so she called us – and we dispatched a team with a local veterinarian who was also licensed to operate a tranquilising dart system.

When we arrived, Mark Anderson from Animal Evac New Zealand provided these video updates.
Sadly, Mr Shakey Head was correct in his assessment and an independent veterinarian made the hard, but right decision to euthanise to bring peaceful closure to his painful ordeal. It would have been great to have been able to save him, but this is the reality of what we are finding. Animal Evac New Zealand carries out no euthanasia of animals, therefore such methods are done by those who have independent authority to do so (not under our authority because as a policy, AENZ does not carry out euthanasia).
We urgently need donations so we can ensure we can continue to respond and be ready, as well as cover costs such as those incurred today in capturing and helping animals like Mr Shaky Head.