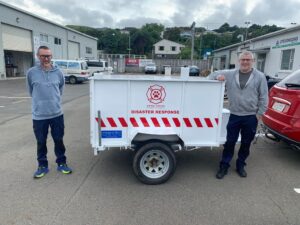 Animal Evac New Zealand has just revealed its new disaster response trailer with livery with the support of the Wellington community.
The trailer's former life started out in 2000 when it was donated to the Wellington SPCA Animal Rescue Unit through neighbour's of Nikki Snodgrass, a volunteer animal rescue technician at the time, recalls Blair Hillyard the former Rescue Manager of the ARU.
Humble in its beginnings, the trailer was operational for twenty years and saw deployments to major disasters including the 2011 Christchurch earthquake and 2017 Edgecumbe Flood (picture below).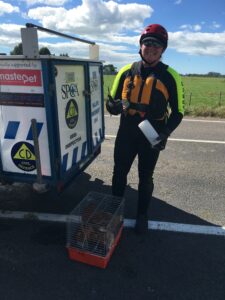 Animal Evac New Zealand took over ownership of the trailer in 2021, following the closure of the SPCA National Rescue Unit. The trailer needed some care and attention, so AENZ Central Region Coordinator Antonia Allum worked her magic to enlist the support of WelTec and Union Hardware to have it repainted. Once back after it's new paint job, Glenn and the team at Imagine That in Tawa have made it look smart with our branding.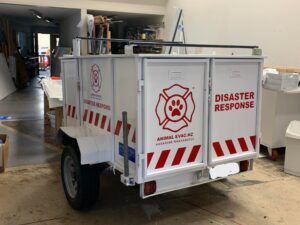 Thanks to the support of Kapiti Coast District Council, a new team base has been established in Paraparaumu where the trailer is also housed ready for deployment by our technical rescue team which is under development.
Thank you to the generosity of WelTec, PPG Union Hardware and Imagine That for making this possible.
Animal Evac New Zealand receives no government funding for the establishment or maintenance of our animal disaster response capabilities, we welcome donations at our GiveALittle page.