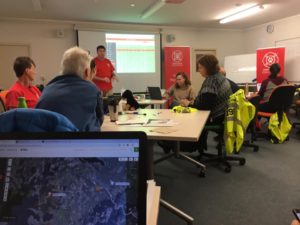 On our 13th Foundation Course, we have clocked well over 200 people trained nation wide through this NZVNA accredited course on animal disaster management.
It was fitting that we reached this milestone in Nelson, just months after the fires that struck the area resulting in many animals perishing in the rural areas. Animal Evac New Zealand at the request of MPI, was quick to put the largest number of trained animal disaster responders on the ground within hours thanks to the support of local members and the Inter-Islander ferry service.
Due to the generosity of the community with donations, grants from the Mayoral Disaster Relief Fund and partial reimbursement of travel costs by MPI, Animal Evac New Zealand wanted to give back to the fire affected community by delivering a highly subsidised foundation course in Nelson.
The full course was attended by a diverse group of animal advocates, from those working already in animal welfare, to a wide range of occupations from scientists, educators, information technology consultants, law enforcement, builders, equestrians, wildlife carers, counsellors, farmers, health care professionals and more.
The weekend comprised of the Foundation Course (NZVNA accredited), Sheltering Course and Dog Bite Prevention course (NZVNZ accredited), and included the use of the D4H Incident Management Platform for animal emergency registration.
Thank you to all the organisations above that have supported us financially or otherwise including our hosts NMIT for making this course another great success.
You can donate to support our work at or contact us if you want to be added to the course wait list.